Which travel pillow is best
I never travel on a long haul flight without a travel pillow these days! 
Those airline pillows are fine to build a little nest if you're lucky enough to have a window seat, but when it comes to keeping your head comfortable enough to get some good sitting-upright sleep, you need a proper travel pillow.
And not just ANY travel pillow!
Here are a few different types of travel pillows I've tried and what I think about them, but first a few tips:
The first mistake people make is using a travel pillow that doesn't fasten in the front and therefore falls off or dribbles down your shoulder causing your head to follow suit until you are leaning on the poor lady next to you.
Actually this guy (whoever he was!) doesn't even have a pillow. Let that be our first lesson :D
The second mistake is that when they have a pillow that does do up, they keep the fastener in the front under their chin (logical) but their head is being pushed forward away from the seat in an uncomfortable position for hours.
Here's a tip: as you can see from my pic above, I swivelled it round so the thin part with the fastener is in the back and my chin can rest on the fat pillow part.
Here's another tip: with the front button/clasp/toggle you can easily carry your pillow around the handle on your suitcase, thereby taking up no precious packing space.
I have four types of neck pillows that I've tried and which I also now sell in my Travel Store, so if you're located in New Zealand you can buy one online and I'll ship it to you before your next trip.
Either way, I hope you find this review helpful and I'd love to hear your comments on pillows you've tried.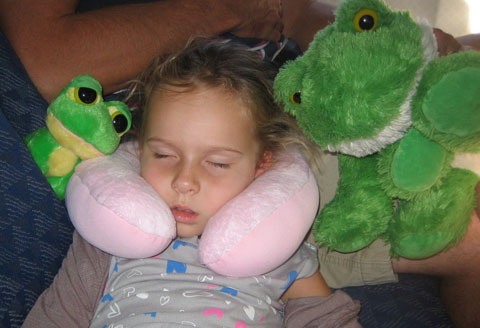 Kids love neck pillows too! This is my niece heading for home in the Caymans with her microbead pillow.
Microbead travel pillow
This is a squishiest of the lot. The microbeads move easily and over time the pillow will definitely soften up (and may get saggy). This pillow is ideal for little ones and kids as it can be moulded to fit and is very comfortable. It's about the cheapest travel pillow on the market so is great for a shorter trips and it will do if you don't travel often to get the value out a more expensive one.
Inflatable travel pillow
These are a great cheap and cheerful solution, but not my favourite mainly due to the seam that can run around the middle and jab into your neck! It works like the microbead pillow because you can blow it up to be as firm or soft as you like. Ideal for little kids and babies if you just want a little neck support in a car seat, for example. The one in my store (click on the title) has a plush cotton cover so there's no plastic or seam that can bother your bubba.
Memory foam travel pillow
This is a firm pillow and is good if you don't like the squishy kinds. I personally find this one a bit hard, but it is great for getting some sleep, especially if you have a window seat and can build a little nest. Remember to swivel it round if it's too firm in the back.
Cabeau Evolution travel pillow
This is my favourite and is also the best selling travel pillow by far in the Travel Store. It fits high at the sides like a neck brace and is also made of memory foam but not so hard as to be uncomfortable. It comes with its own storage bag and you roll it up like a cinnamon bun to pack. (Make sure you store it at home out of the bag - it is memory foam after all so it will stay rolled up for a while!) It fastens at the front with a toggle and I can get hours of sleep sitting upright in economy class with this neck pillow (and a cheeky sleeping tablet!) as my head doesn't move from side to side. It's more spendy than the others, but the reviews also speak to its success in making a difference on a long haul flight.
I now don't travel without mine.
The best selling Cabeau Evolution S3 neck pillow with straps at the back for hooking on the headrest if you want to - my favourite! 
Here's what some customers wrote about the Cabeau pillow:
"I recently purchased this product because I was flying back to the UK for a month and have had recent problems with my neck. I managed to sleep for 6 hours during my first flight and a couple of hours on the second. It is by far the best travel pillow I have ever used (this coming from someone who struggles to sleep on flights!) - Rosie"
"We actually slept on the plane!!! Highly recommend!!" - Shileigh
"I am looking forward to using it in a few months time when we go on our long haul flights. I'm sure it will be great. In the mean time I tried it at work sitting in my office and had a couple of hours relaxing sleep. Best day at work in ages." - Grant
Visit the Travel Store Pillow category for the full range of travel pillows >>